Board-Up Service in McKinney, TX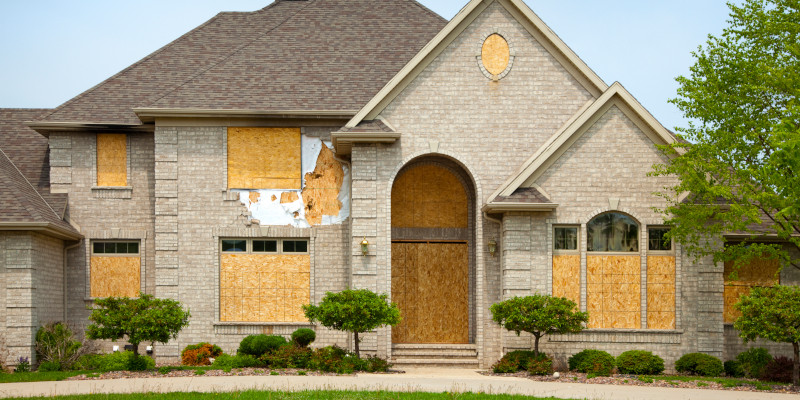 Immediate Response Board-Up Service
In the wake of a storm, fire, or any other unpredictable event, your McKinney property can suffer significant damage, leaving it vulnerable to external elements and potential intrusions. This is where Superior Emergency Restoration steps in. With our immediate response board-up service, we promise to secure your residential or commercial property promptly and efficiently, ensuring minimal damage and maximum safety.
Our team of professionals understands the critical nature of these emergencies. That's why we ensure to respond swiftly, with a goal to protect your property from further damage, be it from natural elements or potential vandalism. When you call us, you're not just getting a board-up service; you're getting peace of mind, knowing your asset is in capable and caring hands.
Why Choose Superior for Your Board-Up Needs?
Experience and Expertise
Superior Emergency Restoration isn't just a name; it's a reflection of our quality and service. With years of experience serving McKinney and surrounding areas, we've honed our skills and know-how, making us the first choice for many local residents and businesses. Our trained team members not only know the ins and outs of board-up service but also have a deep understanding of local building codes, ensuring our work is always up to par.
Furthermore, in a domain where time is of the essence, our commitment to timely service ensures your property gets the protection it needs without delay. Whether it's a small home or a sprawling commercial property, our team approaches every job with the same level of dedication and precision, ensuring you receive the best board-up service in McKinney, TX.
What Sets Our Board-Up Service Apart?
Quality Materials and Latest Techniques
In the restoration industry, the quality of materials and the techniques employed make a vast difference. At Superior Emergency Restoration, we never compromise on these fronts. Our team uses only the highest quality materials, ensuring the boarded-up sections of your property are durable and provide the requisite protection against intrusions and the elements.
Moreover, we constantly update our techniques, staying abreast of the latest developments in the industry. This commitment to continuous learning ensures we always employ the most effective methods when boarding up your property. It's not just about covering an open space; it's about ensuring that the board-up is done right, providing maximum protection while minimizing any visual intrusion. With Superior Emergency Restoration, you can be sure your property is getting the best treatment available.
Superior Emergency Restoration provided a truly excellent service for us. We had water damage from a dishwasher leak. Superior removed all cabinets and part of the wood floor. They were prompt in follow up plus very detailed in showing what needed repair and what did not. We would not hesitate to contact Superior again in the future and recommend others strongly consider their service.
Katherine Sharp
2023-08-01
I am very satisfied with this company's work and would highly recommend them. They came out to remove mold we found from a water leak. Dennis explained everything and the job went smoothly. Ben worked with our insurance to get everything covered. Most importantly though they are honest. I've been burned before by contractors and I am always hesitant but these guys run a stand up company. Any issues we had were promptly addressed and problems resolved quickly. If you are reading this review because you have damaged and need it fixed - call them.
I highly recommend Superior Restoration Services. They came out promptly to check for mold where we had a leaky toilet on the 2nd floor. Extremely competent and friendly. They had us fixed up the next day and were very careful and respectful of our home. I will absolutely call them if we have water damage again. Thank you!
Christopher Roberts
2023-06-07
Ben and Dennis are great guys. Polite, professional and punctual. It didn't take them long to figure out where we needed work done and identify the source of the water. Demo was done in a day. They did not make any mess outside the affected areas. Provided excellent referrals for any work outside the scope of their project. If you have or think you may have water damage, I recommend calling Superior Emergency Restoration.
Ben was the assigned technician. He was here from the start when we found out we had a slab leak. He walked us through the process of what would happen and assisted by communicating with the plumbers, warranty company, insurance company, and adjusters to help us get through this situation. Ben kept us informed of all stages of the water damage restoration process by showing us what was done and explaining why it was done. He even offered options with a estimate to do the job and what to expect when filling a claim. We ended up of course going through insurance due to the magnitude of the job. He did a great job with the work to monitor and remove the affected areas in our house over the 2+week project. He was timely for all appointments and was always very professional. He also power washed the courtyard which had gotten dirty from drywall and other items that were carried out the house. Ben and his crew is calm, patient and easy to talk to, great communication (I sent them lots of texts and they always responded right away) and very trustworthy, I went out of town and gave his company access to my home so they could continue with the project. Thank you Ben and Superior Emergency Restoration for all your work and 2+ hour commute to get here.
Ben and his team brought my home back to life when a small water leak turned into a big mess. Overall I would say very thorough service and a pleasant experience. Would definitely recommend to everyone I know that needs quality experienced home care.
I had a toilet supply leak leading to my bathroom being flooded. I called Superior emergency Restoration and they responded the same day to start fixing my issue. Ben and his crew got my house dry in 3 days. They also handled all the insurance paperwork. I would highly recommend Ben and his team.
Michael Gersbach
2022-03-27
I recommend superior to every emergency customer I received there good ,reliable , and I know they treat my customers right !!
My house flooded and I'm so glad I called Superior! Ben and Dennis were really informative and really helped streamline the process. 10/10